An Interview with Trippy Wicked
May 08, 2020
I know it's only May, but in light of current world events I reckon I'm not the only one thinking about and looking forward to 2021 already. Next year will mark 15 years since Pete Holland and Chris West started jamming together, with Dicky King joining them in what became Trippy Wicked not long afterwards. This year has seen the original line-up release it's first freshly recorded new material since 2013's Underground EP, and work is underway on their first full-length album together since 2012's majestic Going Home.
On APF's The Sound of Heavy 2020 compilation, out on 15th May, there's an unreleased TW track called Carat. We caught up with the band to talk about that, and much more, in their first full interview together since Chris returned to the fold after his five years away.
Q: What's been keeping you busy during lockdown?
Pete – I've been watching A LOT of TV. In about nine days I watched all seven series of Buffy The Vampire Slayer. There were highs and lows and everyone's like seasons 5 & 6 are amazing and I'm like er…. nah. I watched Tripods from the 80s and that sent me down a route where people were like "watch The Children of the Stone!". On walks I've been listening to the new Desert Storm, Nathan from Beastwars other band End Boss has been pretty sweet, and the new Elder as well.
Dicky – I finally slapped on the Barbarian Hermit album in the boogie van and the first track just kicks you straight in the nuts. Loving the Babs. Other than that, I've been going backwards and forwards between old skool hip hop, atmospheric stuff, just a mixture of everything. Yesterday I had the kids watching Yob from Freak Valley, me and my youngest have been watching The Mandolorian and enjoying that, and I'm trying to finish the second series of Cobra Kai - but I don't want to finish that until the next season is online.
Chris – I haven't been listening to much music, but if I do I listen to a hip-hop playlist, all modern stuff. A lot of the time I'm working on Trippy stuff… stuff that needs me to think, so I've had ambient music on in the background and I found there's a few guys who make these 3-hour long mixes of Blade Runner, all the ambient sounds from the film mixed in with this really chilled out synth, and there's one for Ghost In The Shell as well. I can just chuck it on for hours and its great background noise. The only thing I'm watching at the moment is Battlescar Galactica – the modern one.
Q: You've been back together for a little while now (after Bill Jacobs kept the drum seat warm between late 2013 and early 2018). But I don't think you've actually talked about how the reunion came about?
Chris - We chatted at the very end of 2017 and Pete said "I've got loads of riffs; I need to do something with them". I quite fancied having another go at drumming again. I had no idea what it would be like, or if I could even still do it. So, me and Pete started jamming at the beginning of 2018 and as soon as we did it was immediately like "this is a lot of fun", so we spent the whole of that year jamming and writing. We talked about doing it as a new band, but we couldn't come up with a name, and then I just thought "the reason we can't find a name is me and him jamming together is basically Trippy". We met up with Dicky towards the end of 2018. I said "you guys haven't done anything for a couple of years, why don't we just pick it up again with this new material that's slightly different but still has the Trippy sound".
Dicky – I saw Chris and Pete at the Black Heart (performing as "TW") and I thought this is sounding filthy and dirty! A lot of people were saying to me "aren't you meant to be up on stage?" and I was like "nah this is nothing to do with me". It was like the whole clichéd falling in love again, seeing them on stage was pretty much like when I saw them the first time all those years ago when my band Olde Crone were finishing and I thought "yeah I'd like to get a piece of that pie".
Q: What changed for you, Chris? You'd really had enough of drumming when you left in 2013 as I recall.
Chris – I think I just needed a break. A long break. I don't find drumming easy, I'm not a confident drummer, I don't feel comfortable with it. Rehearsals are fun but gigs are always…. I always feel like I'm right on the edge of what I can do and what makes me feel comfortable. I hit a point where I was pushing really hard and trying to do some newer things and was really struggling, and I think it came down to not putting the time in to rehearse. When I was kid, I played guitar and I did all the boring learning of the basic skills, but starting to play drums as an adult and learning that…. I don't enjoy straight-up practice so I never do it. The only time I've ever played drums is jamming with these guys.
I was getting better but there were still things I should have been practicing at home, rudiments and feels and things like that. I was unhappy with what I was doing, but I wasn't putting the time in to get better either. And I think it was burnout. It has been an awesome, busy couple of years – a few tours, couple of releases – and I think everything just got on top of me. I think I should have just taken a long break.
Dicky - I think me and Pete could feel it brewing but thought it'd be fine. Then Chris exploded. We completely understand what happened and why it happened. There was no animosity towards each other. We thought "Chris just needs a breather; this is not good for his health or the band".
Chris - If it happened now it would happen in a completely different way. I didn't know how to say it properly and I bottled it all up, and I wasn't expressing it properly, or in an easy way for anyone to understand. So, it just came out as a teenage tantrum – "well fuck this then!". If it happened now it would be much calmer. I wasn't equipped to do it sensibly or properly, or think about it properly, I just let it all build in my head without working it out.
Q: Let's go back to the beginning. How did you all meet? Tell us about the beginnings of the band.
Pete – I had a band called Brain Freeze with a guy called Paul. He knew Chris and asked if he could play bass in Brain Freeze. Then Chris's band Swamp Girl needed a singer and I was like "yeah alright" and then we ended up doing a couple of EPs with that, then that collapsed. Then a couple of years later I had a few demos of stuff and Chris wanted to get involved. It was two guitars and a drummer, and Paul had his octave Pedal and we were like that for a bit. We were doing Imaginarianism (self-released 2008 Trippy Wicked album) material for a good year and a half I think and then Dicky got involved.
Dicky – I remember seeing you guys when Olde Crone was still going. It was like "cool, there's other guys locally doing this kind of thing", there was something that just caught my eye: it had the groove I like, the catchiness, the heavy rawness and all of that. Because we also rented the same rehearsal studios I kept bumping into you in gigs in London, and then Olde Crone split up and I was just standing around in Farm Factory Studio where we all practiced and I asked do you mind if I just come and stand in on one of your jams and it went from there. They were playing Evil and Pete was playing it on a guitar down tuned really like a bass and I thought maybe I could do some bass over the top. The tuning was the same as Olde Crone's at the time, drop tuning. So, I turned up and played Evil with them and that's how it came together. That led on to Lowering The Tone, the EP we put out (in November 2008).
Pete – That was just before Movin' On. We first started jamming in 2006.
Chris – Yeah 2006. I know cos you had the New York song…
Pete – Oh god yeah! (Pete sings the New York song)
Chris – That's what I remember as being the beginning of Trippy.
Pete – If Last.fm was still going… the early stuff was all uploaded to there. Make Like A Rock 'n Roll was the first thing and it had Baboon on it and Hang 'em High.
Pete – With those old albums, Chris used to print them out, we'd only burn like a hundred or something.
Q: Your track on the APF Sound of Heavy 2020 compilation is Carat, another old one. Tell us about that?
Chris – When we started working on the Movin' On Singles thing last year I was trying to make sure I had a full archive of everything we'd recorded and then I realised I hadn't put it all on my laptop, some of it was still on a CD. I was listening to stuff on it and this song came on and I was like "WHAT? I don't recognise this at all". And then it slowly came back. A friend of ours runs an animation company and he wanted a piece of music for his showreel and we wrote it for that. We were going to Chuckalumba (studio) to record the album so we recorded it while we were there. It didn't end up getting used because it was too heavy and rock n roll for a kid's animation show, I guess. We wrote an acoustic thing for him instead which he ended up using. So, this track stayed on this CD and ended up in a drawer in my house and I didn't find it again for 10 years. It was literally only a few months ago I found it again.
Pete – Interestingly enough he's gone on to be really successful with this cartoon Sarah & Duck, he's won a BAFTA and everything.
Chris – Sometimes I'm tempted to dig out some of the super early stuff, but it's not really like what we're like now. This one was though - it has that Movin' On analogue sound to it.
Q: Are there loads more old Trippy Wicked gems in the archives then?
Chris - Yeah. I've got shitloads of demos of stuff we wrote and recorded. There are whole songs. Loads of them. Maybe one day we'd go back and do them but …. probably not, because we keep writing new stuff.
Pete – It has MOVED ON. We got pretty far on with an album that was gonna be called Bounce Bunny Bounce, we got the artwork done and everything. But I was in Stubb as well at the time and everything was getting a bit of a juggle. We were trying to record it and I was getting all flustered with my playing and it was getting to be a chore so we ended up scrapping it. That was after hours of recording. We had a tune called Beer – that was the one I was really struggling to play but the end of it… (Pete sings the riff)… I listen back to it now, and I think OH MY GOD THAT IS EPIC. Classic Trippy. Bounce Bunny Bounce was about a girl on a trampoline…
Q: When you look back on your output are there any particular songs you love or are particularly proud of?
Chris – It's interesting for me to look back at some of our old stuff. Over the years I've learned to let go of the perfectionism I used to have, or at least some of it. At the time of Movin' On I was in that perfectionist state of mind, and the only bits I could hear on it was the bits I didn't like or would change, and I had that when I came out of that recording. I liked it but thought it was a bit raw sounding. But when I look back at it now, I fucking love it. It's such a cool sound, it sounds raw and mean, it's got such a wide range of songs and styles, it's got loads of brass on it as well which is cool. That one's grown on me more as time's gone on.
Pete – There are tunes I forget about. There's so many, especially being in Stubb and Elephant Tree as well. I just end up churning out riffs and not having time to carry on and do anything with them. Like the other day I posted a video for an Elephant Tree song (playing the bassline to Aphotic Blues for someone who wanted to learn it) and someone said "can you do a run through of Hillbilly Moonshine?" And I said "yeah alright". So, I played along to it. And when it got to the end of the track it went into Pour Me Another One and I was like…. "ah that's cool!" I'd forgot about that one.
Chris – The thing I've learned with Trippy is I have to record everything, and pretty quick. Pete's song writing especially. We write songs, jam them for a month or two, and then new songs come in, and if you don't record them you forget them. Going forward now I record everything.
Dicky – Pete gets riffs stuck in his head every day. I turn up at practice and he starts playing something, and then we jam it out, and then you might not hear it again for six months. You work on it and then he's like "ah I've got this other one". Sometimes he's like a million miles an hour – just go go go!
Pete – My phone is just full of ideas, all about a minute long but they fill over 2GB. Like about 500 or 600 of them.
Q: Moving on to the present, it feels to me you've become much heavier musically and darker lyrically. Green Memories is especially heavy lyrically. Was this a conscious decision?
Pete – Trippy is as Trippy does really. I like my heavy music. I always wanted to support Weedeater and I didn't think Trippy Wicked were heavy enough to. We've supported Truckfighters and other bands and that was cool, but I really wanted to support Weedeater. Three Leaves is like my homage to Weedeater, tuned down even lower. And our first gig back together was supporting Weedeater haha.
Green Memories is pretty dark, but when you look at the lyrics to Fire and Evil… even that line in Pour Me Another One (GOD IS OVER IN MY WORLD) – all "there is no god, god is dead stuff", I've been saying it for years. I always like to have a little positive something in there as well, you've got to have the light and dark to equal each other out.
Dicky – if you look at Pete's lyrics, he has a tongue in cheek aspect and also a dark aspect. I think that's what helps with Trippy – its not all doom and gloom. Underground was a whole EP about the world ending: do you escape or do you bury down and try and hold out? The newer stuff is darker but the riffs still have groove.
Q: From your Weedeater support onwards you've just been playing new material. Will fans ever get to hear the old songs live again?
Chris – When we first came back, I was pretty adamant we would only play new stuff - part of me thinking about it as a new era of the band. But I've softened on that recently and I've been thinking maybe we should play some of the old classics. It's always tough with Trippy because there's so many songs, that much music you want to play. You write so much music but you've got 25 or 30 minutes to play live so you have to choose which ones to play and to leave. That's tough.
Pete – I find it tough to sing (the old stuff). I'm getting used to these new tracks, which are in drop F, but singing Fire in drop F…. that feels weird. Hillbilly Moonshine was in Drop A. Totally different tuning.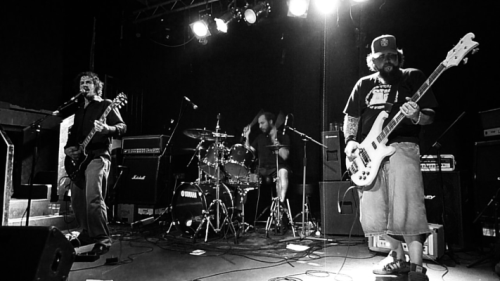 Q: Looking to the future – are you back for good? Any great plan for Trippy?
Chris – Mainly a case of get back to finishing the album when we can and beyond that I don't know.
Dicky – We've never been like "we want to be here in five years and here in ten years". Let's see where it takes us. See how everyone's feeling. I'm fortunate in that I've got a wife and kids who understand I play in a band and they think that's cool, but there are sacrifices you have to make for them. That happened that time Chris booked a tour and I just couldn't get the time off work so Tony Reed (Mos Generator / Stone Axe) came over and did the drumming with Chris stepping onto bass. The greater needs if you like. Trippy adapted. We also accept that Pete has Elephant Tree and Chris has his other projects, whereas for myself I'm just Trippy, the fanboy of Trippy. It's nice cos it keeps Trippy fresh.
Pete – Chris and I will keep making music regardless of what happens with Trippy. He encourages me to crack on and do stuff. We just get on so well working together. The vibe's always cool.
For more information about (and to pre-order) the APF Records: The Sound of Heavy 2020 compilation or t-shirt, visit https://apfrecords.co.uk/merchandise/apf-records-the-sound-of-heavy
Hear Trippy Wicked's Three Leaves / Green Memories (and pick up a t-shirt) over at: