Barbarian Hermit Mk 3 - The First Interview
January 10, 2021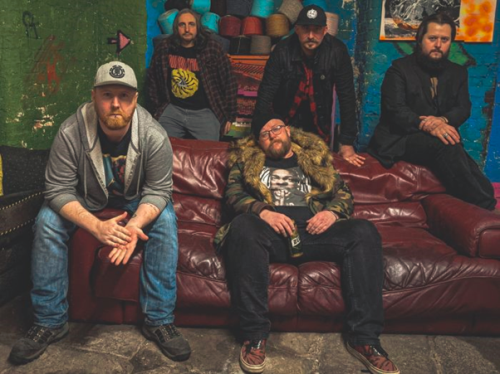 2020 was a year of change for Barbarian Hermit. Ed Campbell, whose vocals had graced their 2018 Solitude and Savagery album, left the band, to be replaced by Simon Scarlett – who had fronted Hermit between 2014 and 2016 and sang on their One EP.
With gigs off the menu, and the quintet firmly in writing mode, APF is re-releasing 2016's One in remastered form with an additional track: previously unreleased nine-and-a-half-minute monster Through the Periscope of the Deadly Sub. Remastering was handled by Chris Fielding at Foel Studio. The result is an already ferocious set of songs, many of them firm fan favourites, given oodles more clarity and power.
If Si's first stint with the band - during which time Chris Wood played bass and Loz Brindley was drummer - was Hermit Mk 1, and Ed's time in the quintet was Babs Mk 2 (by which time Gareth Manning was drumming and Rob "Spadge" Sutcliffe was on 6-string bass), then welcome to Barbarian Hermit Mk 3: Si, Spadge, Gaz and band mainstays Adam Robertshaw and Mike Regan (guitars).
In advance of the release of One on 29th January, we caught up firstly with Adam and Gaz, before turning to Si Scarlett for his first interview since re-joining the band.
Q: Gaz, when you look back on your 4 years in Barbarian Hermit thus far, what is your highlight?
Gaz: The big one is Bloodstock, especially the second time, opening it in 2019. That came as a big surprise. It was around Christmas time (when we were asked to play it), 28th December I think, walking back to my car after I finished work to a flurry of messages, and then screaming in the car "FUCKING YESSSS!!!". There were so many bands we'd seen on that stage that we admire, so when it came time to do it the nerves were there, but it was "game face on". It was a remarkable thing.
I remember very little about it. I was stood by the side of the stage with Chunk and Big Daddy Reegs and some guy pointed and went "go on!", and walking behind the kit and sitting down and then after that it's kind of a blank until the end when we finished Reawaken and I heard this big noise coming from it front of us. A lot of it was a blur.
I remember during Enter The Hermitage, the second song, there's a bit where the song breaks down, and I'd made a point of saying "I'm gonna stand up there". And I remember standing up and seeing the bodies and going "well fuck me, this isn't bad for 6.30 on a Thursday night". It was insane. It was one of those things where, when you start writing songs and being in a band, you kinda want, but you never really expect to do. I was very taken aback. It took a few days to register that we'd done it. "OK, take stock now, we just did that". It was very cool.
Q: When Ed moved on, what made you pick up the phone to Si?
Adam: He was great in the band first time round. He was a big part of making Barbarian Hermit what it was. It was a shame he had to leave when he did. There was no bad blood, it was just a decision he made. When Ed moved on Si was always going to be the first choice, we reached out in the hope he might say yes and thankfully he did. He's already picked up where he left off, bringing his unique charm and taste and sensibilities to Barbarian Hermit once again.
Q: Have you got as far as discussing whether you will stay play songs from Solitude & Savagery with Si in the future?
Adam: I think he's up for it. We're focused on writing new stuff, getting an album written and just playing that. But in the meantime, people will want to hear those old songs. Ed did it with songs Si sang on, so I think Si will sing a few of Ed's: maybe Black Mass, Enter The Hermitage or Reawaken. We'll figure out which ones he's most comfortable with singing, and which ones he can bring his own stamp to. We've not had much time in the practice room at all with him with what's going on at the moment, so it's going to be a slow process getting back onto a stage but we'll do it one day.
Q: In that lovely period between the first and second lockdowns you were able to get in the practice room a couple of times. What was that like, playing with Si?
Gaz: The first session was a little odd, because we were all feeling each other out, we were all wearing masks, we weren't able to belt it out like we usually do. For me it was a big "feeling out day". Adam and Reegs have played with Si before and they know how he works, so I was getting an idea of how he works, and he was getting an idea of how we work, and trying to blend it together. But then we got to the point where we were like "shall we jam some of the One stuff?" and then hearing this voice that I have so many fond memories of, being stood in front of him doing it on stage, it was… smiles everywhere… FUCKING YES! And since then we've been focused, it's relaxed, we're not rushing anything, we're just writing, getting everyone back up to speed slowly. So yeah: relaxed and focused.
Q: What can you tell us about the new material the band is working on?
Gaz: It's different. No one is looking to replicate One or Solitude and Savagery, we want to do something entirely different. We're bringing out the musicality a bit more: it's nice to be bludgeoned with a nice heavy riff but it's nice to hear some musical elements as well. Me and Spadge are working on bolstering our rhythm section to give the lads something substantial to play over. The heavy bits are heavier, the lovely bits are lovelier, there's much more dynamic stuff going into it. It's gonna be more of everything you like, but also stuff you haven't heard from us before. The scope of everything is going to be bigger.
Q: It's hard to talk about future plans when no one knows what's going on, with this pandemic, eh?
Adam: All we know is we want to do a new album. We've made some good headway, two solid tracks are down, with another two or three well on their way. Si has just started putting some vocals down on one of those new tracks and that's sounding really cool. He's wanting to challenge himself and not be "Si from the first EP" but bring something new to the table, and you can already hear that in his new vocals. So, that's going to be exciting. We'd love to play some shows and do some touring, whenever that is. All we can do for now is keep writing.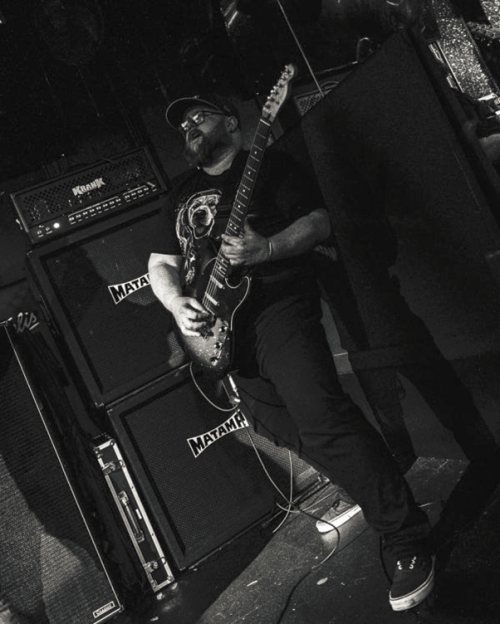 Q: The upside of the pandemic must be that you're under no pressure now? You can take your time on this new material.
Gaz: Absolutely, it's really let us streamline in terms of writing. One of the things we found after Solitude was we were gigging so much, and there were these milestones which kept coming along, that writing went on the back burner: we have to get ready for the album launch, we have to get ready for Bloodstock, we're doing an Elephant Tree cover we've got to get ready, we've got the APF Showcase to do and we've got to get ready for that… Whereas now because there's no outside interference we can just concentrate on being creative. It's frustrating not being able to go out and see bands and make some noise on a stage, but it's also nice to just write and take our time with it.
Q: The One remaster includes previously unreleased track 'Through the Periscope of the Deadly Sub'. Where has that track been lurking, and what can you tell us about how it came together?
Adam: 'Periscope' was one of the first Barbarian Hermit songs written. The riffs were pretty much fully formed before Si and I joined. It was originally called PMRF or 'Private Medical Research Facility' but then Si wrote these incredible lyrics based on a nuclear submarine. It was a staple in our live set for a while, and was recorded in the same sessions as Alma, but I think because it was quite stylistically removed from the rest of the EP we decided to leave it off. Eagle eyed fans might have heard it on an old SoundCloud account we had for a bit before we moved to Bandcamp. I think it only had about 50 listens though!
Q: Gaz, you were a fan of Barbarian Hermit before you joined the band four years ago. 'One' was originally released before that. What do you think of it, and the remastered version we are releasing shortly?
Gaz: I adore it, I've always loved it. My love for it has only grown. Being able to dig out Through the Periscope of the Deadly Sub and have that as a nice little treat on there is great. I wasn't on it but hats off and big love and respect to Chris (Wood - bass) and Loz (Brindley - drums) because they did a great job on it. They deserve a big tip of the cap. Chris Fielding has killed it on the remastering. There's a lot more space on it, a lot more of the weight comes through on it, capturing the beef that's missing on the original. It's a bigger, fatter version. It's One on steroids.
Q: Barbarian Hermit is the Van Halen of APF eh? We've had the Hagar years with Ed, now we're back to the Dave Lee Roth era with Si…
Adam: Back to Roth. Si returns with a leap, in spandex leggings. Haha.
Q: Do you remember the final gigs Si did in 2016, at The Alma and in London?
Adam: The final gig was Paul Evans's 50th birthday at The Alma. We knew Si was leaving then. He told us in the July but didn't leave til December. That gig was a messy one in every sense of the word. He was at the top of his game. Give him some fancy dress and he literally turns into someone else. We've had a couple of Zoom chats with each other recently, discussing plans, and he's excited about doing that stuff again. It's just a shame that we don't know when we can do it. The man is a born performer, he loves to do it, and it's good he's back and has that vehicle to be able to express that part of himself again. When you speak to anybody who remembers Hermit back in those days it was always a talking point: Si's stage presence. It was so unique, especially in our scene.
Q: What have you been up to during the pandemic and how did you cope with it?
Adam: Been doing a lot of drinking, getting well into my craft beers haha. On the band front there was a good period for the first few months where the practice room was closed, but we tried to be as productive as possible, so we all bought equipment for recording at home. We spent the first few months trying to figure out how to use it! That's ended up in a few ideas being thrown back and forth. We've managed to demo a few new tunes. When the practice room was open in the autumn, we went in in groups of two or three people, working on ideas and chipping away at this new stuff, which is coming together slowly. It's not the ideal way we'd like to do it, but we're making the best of the situation.
Q: Gaz, what's been keeping you sane over the last year?
Gaz: My wife, playing drums and the band. There hasn't been a lot of time to go and do other things. Having quality time with Mrs Manning has been nice and she's got me through. A lot of it has been shit because of my job (Gaz works in healthcare). Drums has kept me fit and active, and writing with the band has kept my creative mind ticking over. Music-wise I'm listening to a lot of Hans Zimmer at the minute, and Them Crooked Vultures. The new Deftones album is a fucking corker. I've been picking a song I know, or like or can't play, and then going to try and learn it, keep my chops up.
Q: Welcome home, Si. How did coming back come about?
Si: Me and Mike had kept in contact with each other and were discussing doing some bits and bobs together, a Downset cover and things like that, just for fun. And then obviously Ed left and they asked if I'd be up for coming back and doing some vocals, and I said "yeah that would be ace".
Q: Why did you leave first time round, and why is now a good time for you to return?
Si: Can you believe it's been 5 years since I left? Ed was in the band for longer than I was by the way. At the time I was launching a new business and to be honest I just needed to be focused on that. It still takes a lot of my time, but I missed the regularity of a creative musical project and being in a band, and I've always loved working with Mike – we've known each other for the best part of 20 years – so I was just glad to be asked to come back.
Q: How do you look back on the One EP with five years distance?
Si: I was really pleased with how it sounded, even though it was just a demo. I still love the songs and I suspect we'll end up playing some of them live. But I really want to write a whole album's worth of stuff that will stand alone but still sit well alongside the old stuff.
Barbarian Hermit Mk 1 - 2015
Q: When you look back on 2014 to 2016, do you have a favourite memory from your first time in the band?
Si: We did a tour with Boss Keloid and Chubby Thunderous in 2016 and there was a moment where Mike disappeared. We were staying in a camp site; we were trying to find him and didn't know where he was. Around 3am we looked in his tent and he was just sitting on his camping chair, drunk, with his iPad, watching Father Ted and cooking up some gnocci. We were like "where have you been?!" He was all like "hello boys! I'm just here getting comfortable." I loved that time, being on the road. Everyone was bonding and having an awesome time.
Q: How was it for you, watching Barbarian Hermit with Ed as frontman?
Si: It was awesome, I loved it. I've known Ed since the early 2000s and I used to love his band Random Act of Violence, they were amazing. Ed was always such a mesmerizing person on stage, so I was chuffed to see him in Hermit and impressed by him as well. I can't do what Ed does. He has a growl and tone that I can't emulate, and I love where they took the band with Ed in it. Even when the band performed the songs that I had written I loved Ed's take on them. Being able to be out front listening to it was nice and a real experience.
Q: You left at the top of your game as a frontman. Have you been on stage over the last 5 years, and how are you feeling about getting back on a stage when gigs return?
Si: I did one gig at the Alma with Turns Out Its Man back in October 2019 and we had a good reception, and I've been DJing as well. I'm confident. We're going to push it on the live performance. I won't say much more but we're really going to go for it and own that stage. It's a promise we've all made ourselves: to really dominate that stage.
Q: There's an entirely new rhythm section now from when you were in the band.
Si: Yeah, we've got together in the room once or twice, and been sharing ideas digitally and bouncing them back and forth. I've known Bobby for best part of 20 years as well, and Gaz and I started a side project a few years ago, before he was in Hermit, so even though it's a new band for me to re-enter it's also very familiar people and I know how they jam. We all get on, no one's precious about anything, we're all really just bouncing off of each other. It's a good gang to be part of. Obviously at the moment with COVID it's limited us being able to jam right up in each other's faces, but it means we're doing more distanced stuff: sending each other ideas and stuff.
Q: What did you think of Solitude & Savagery? Will you be singing those songs live?
Si: I think there may be one or two that I can put my own twist on. I thought it was a great album, I really enjoyed it: it was daring, it went to lots of different places, really chunky and exciting. I loved the artwork. I was at the album launch show and got to do the video for Black Mass, so I listened to that album a lot of times. I can see why so many people switched on to them whilst I wasn't in the band. I guess for those people it might be a little jump, but I also really hope that this new phase and this new stuff we're gonna do is going to be exciting and people will be able to appreciate it for what it is. We are challenging ourselves to write something that we're going to be proud of and which is timeless and gives us longevity.
Q: What does the future look like for Barbarian Hermit?
Si: We're thinking now we can make something we are really proud of. Our tastes have matured, we're got better at writing and how to orchestrate songs, and now is the time to make something really awesome. I've got a good feeling about the new stuff. It's going to be different. I'm not going to be the same Barbarian Hermit vocalist from 2016. The music has changed, there's new members in the band, it's gonna be Barbarian Hermit version 3.0, with a new edge.
It feels good to be back.